1
« Last post by Rich on May 30, 2016, 02:27:50 PM »
I've had this car for a little while now and I've done a lot of work to it, so I figured it was finally time to make a thread for it....
I am not new to 944's but it has been a very long time.... I owned an N/A back in 2008. Unfortunately, I didn't know much about them at the time, and it was automatic
But I still loved that car anyway. I have had a whole bunch of German cars in the passing years, but I always longed for another 944.
About 2 years ago I started looking for one again. Not just any 944 though, it had to be the right one. I was mainly looking for a 951, but I was also interested in S2's as well. I was talking to a friend of mine back in Febuary and he mentioned that his dad had an S2 that he might be willing to sell.... Two days later, it was in my driveway.
It was a little rough and clearly needed some mechanical attention, but it ran great, already had a chip, looked pretty decent and the price was a steal. I didn't even try to haggle, I just wanted the title in my hand before he changed his mind, haha. He had owned the car since 2006 and barely drove it during that time. It was originally a Guards Red car that he had re sprayed in black. Eventually it will go back to Guards Red. The paint job wasn't the greatest, but it was far from the worst. They actually did a good job with the color change for the most part, aside from the engine bay. He had no service records from his ownership, but his son (my friend) is a tech at a reputable Euro indy shop here in town, so I trusted his word on the work that had been done. There were records in the glovebox from the previous owners, totaling about $14k in receipts up till the time that the previous owner took possession.
Anyway, this is what it looked like when I got it home (after I washed it, of course)
Dont worry, the wood trim is gone now!
Engine bay looked a little rough, but I was able to clean that up too-
Even though the PO didn't drive it much, when he did it was down a dirt road......
After many hours of scrubbing and degreasing it eventually looked like this!
The paint looked fine from a distance, but as I mentioned before it was not great. There were lots of what looked like palm prints in the clear coat from pushing the car around the shop before it was dry, and then there was the issue that the PO took it through automatic car washes and also looked like he washed it with very dirty brushes....
I put about 14 hours into wet sanding and polishing the car. It's still not perfect, but it's way better, and still more presentable than most newer black cars on the road-
Now onto the mechanical stuff. Keep in mind that all the mechanical stuff and detailing stuff were all going on at the same time.
Since February I have done the following to the car-
-New axles from 944Online
-New Bilstein Shocks
-Ball Joint rebuild kit from Rennbay
-New Polyurethane control arm bushings from PowerFlex
-Alignment
-New Fuel Lines from 944Online
-Full Tune up
-Fixed Vacuum leaks
-New FTE Master Cyl
-New FTE Slave Cyl
-New Bosch Starter
-Fixed Exhaust leak
I'm sure there are a few things that I am forgetting at the moment.
When we did the axles and the rear Bilstiens, I also did some fresh undercoating in the wheel wells at the same time. (this was also before I cleaned the underside)-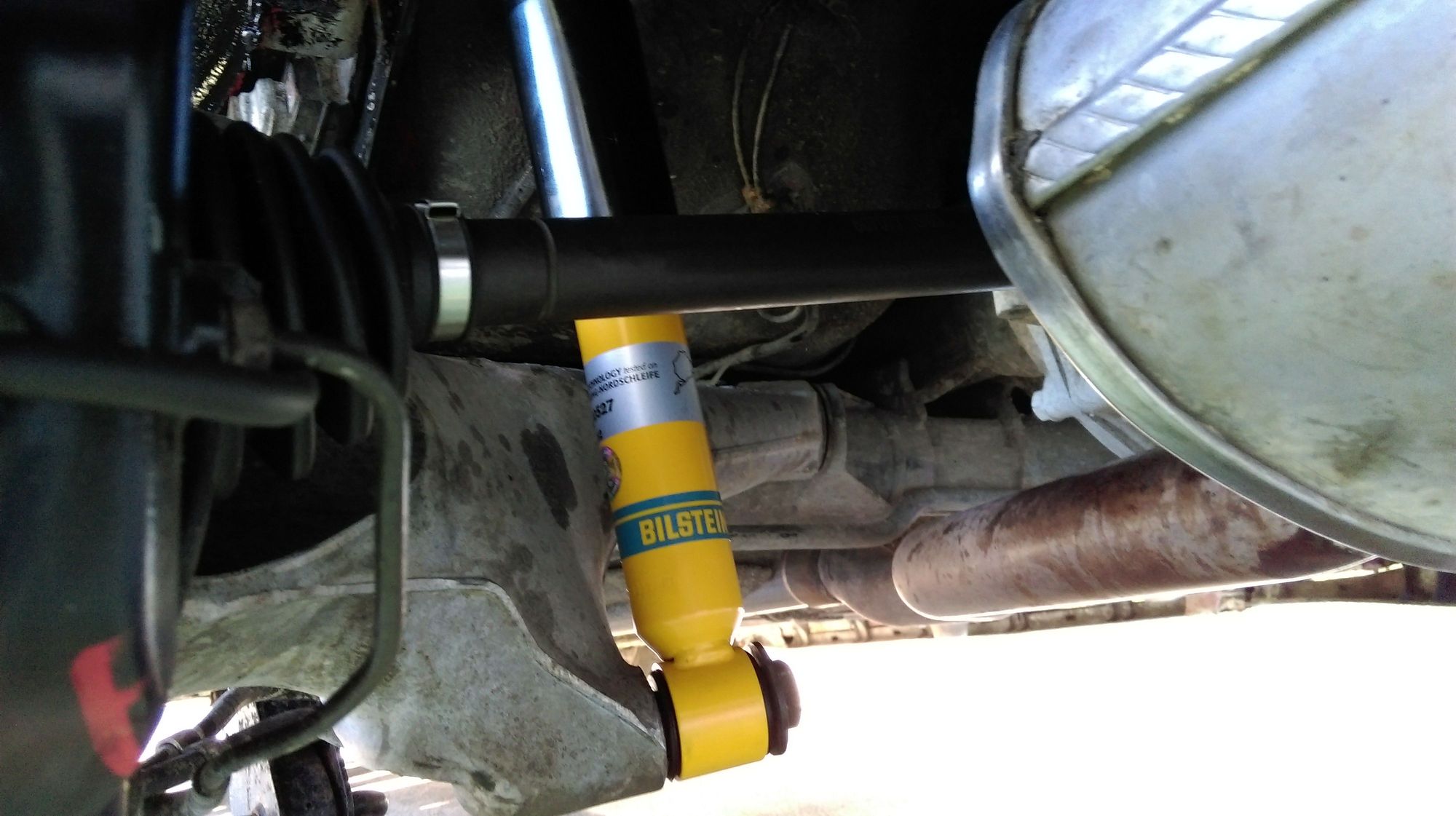 Then came the control arm rebuild. That took a little longer than expected. The first ball joint came out perfectly, just like it should. It was on the second control arm that I discovered that someone had found a sealed ball joint that just kind of-sort of fit in the control arm and pressed it in... needless to say, it wasn't coming out. Luckily, another member had a spare one that he sold and shipped to me quickly.
And fixing the exhaust leak. The pipe had cracked all the way around the factory weld on one of the flanges connecting to the manifold. PO had cut out the cat and it was a little to raspy for me, so I had them throw a resonator in there at the same time to tone it down a little bit.
Now that the car was mechanically sound, I started looking for a set of wheels. The D-90s that came with the car weren't in the greatest shape cosmetically, and the tires were VERY old, and ready to go. All that combined with the fact that I just don't like the way the D-90's look fueled my search for a set of wheels. After searching for over a month (and making several long drives to go look at wheels that were poorly described in their ads) I finally found a set. I was originally looking to stick with OEM wheels, but these are made by ATS. ATS is a German company that also made some of the factory wheels for Porsche, so I knew that quality wasn't going to be an issue.
They are ATS Apollo II's 18x8 and 18x10. The wheels are perfectly straight and no curbing at all. They came off of a 1997 993 with only 27k miles.
They came with good tires for the fronts and usable tires for the rear. I drove on the rear tires for a while (265/35) but wanted to go a little wider. I just came across a pair of 275/35 Dunlop Direzza Sport Z1 Star Spec's and put those on.... These are fantastic tires! I will be buying a new set of them when the time comes.
The Previous owner told me that the car had LSD, but with all the mechanical issues that needed to be taken care of and the tires, I hadn't really tested that out... until now... Turns out that he was right!
At some point during all of this I also converted the sunroof to manual latches so that I could actually use the damn thing! Haha. Now it spends most of its time in the trunk.
Now that I have a thread that's up to date, ill continue to post as progress continues. next item on the list is the transmission mount.